Services
No matter what type of Full Truckload or LTL service you are looking for, the professionals at Centurion are experienced in all aspects of truckload services. We can transport your products by utilizing one or more of the following diversified fleet options:

Are you looking to protect your shipment from freezing in the harsh Canadian winters? Well no worries, we have you covered with our heated service. You have the same convenience of our standard 53 foot dry van trailers, now equipped with the latest Thermo King heater units. Our heated vans are used to service many different products including foods & beverages, pharmaceuticals, chemicals, and general household products.
If it doesn't load into a Van, then flatbed services also exist. Oversized or Over dimensional? no problem. We have the expertise to help you with that as well. Our fleet consists of the standard 53 foot regular flatbeds. We've hauled anything from pipes to turbines.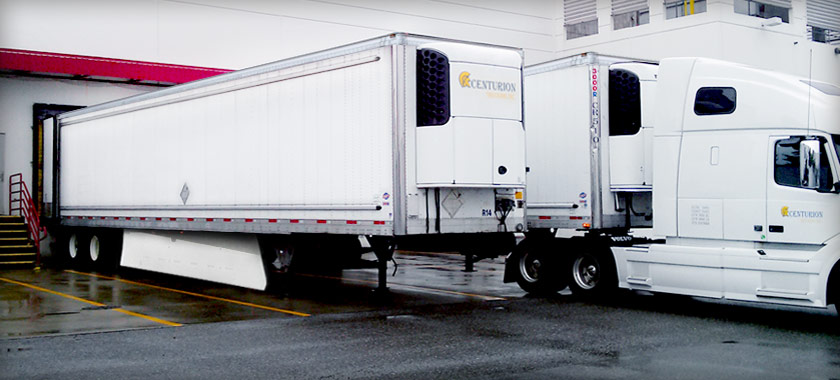 Fresh, Frozen or heated, Centurion has the capability to maintain the temperature you require. From a chilling -25 degrees Celsius (-13 F) to a smoking 40 degrees Celsius (104 F) we will have no problem delivering your product at the temperature you require. Our 53 foot trailers with Thermo King units offer our customers additional ventilation and circulation to ensure top quality standards are met and exceeded.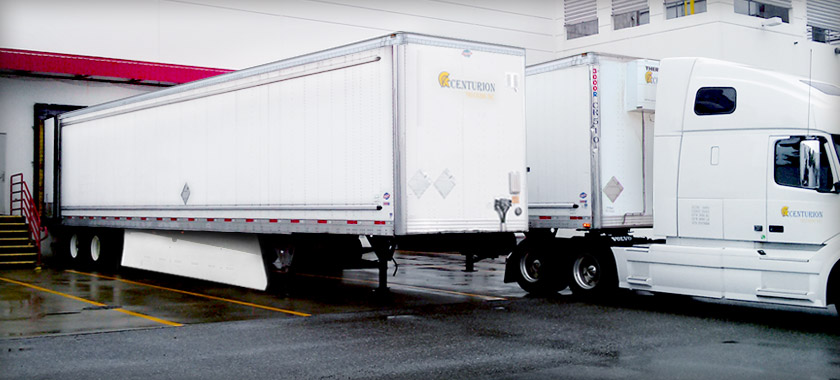 Our latest fleet of 53 foot air-ride trailers can handle anything from electronics to pet food. All of our Dry Vans are equipped with logistics rails and wooden floors.

Our customers can benefit from our latest and most up to date technology in the trucking industry. Centurion Trucking has invested and implemented a number of technological innovations including Satellite Tracking, Electronic Data Interchange (EDI), ACE / ACI Manifesting, electronic updates to customers on their shipments, and much more.
Along with technology, it is our job to keep all of your information secure. That is why Centurion Trucking follows many of the initiatives from the C-TPAT program to ensure that all of your shipments are transported safely and securely from origin to destination.

As your freight moves across the country, our satellite tracking system moves with it. This state-of-the art system monitors the movement of every vehicle on the road 24 hours a day, 7 days a week.
Our around-the-clock data connectivity allows consistent and reliable communication between our drivers, our operations staff and our computer system. Because location updates are automatically sent every 30 seconds, customers can know the exact location and ETA of their shipment, at any time.
With real-time, automatic shipment updates sent every 30 seconds through the entire operating process, our customers know the exact location and estimated time of arrival of each and every shipment.

Wherever your business is going in the continental U.S., Mexico, or Canada, Centurion Trucking can take you there. By trusting your asset-based logistics management to us, your company will enjoy: premier customer service and drive support, added flexibility to handle incremental truck capacity demands due to seasonal spikes, the ease of outsourcing your specific fleet operations, and the freedom to concentrate on your core business.
Several Fortune 500 companies trust Centurion Trucking for our full range of carrier transportation needs. Between our cost effective solutions, superior equipment, focus on safe travel and sustainability, we're here for the long hauls, and our strategic carrier relations with our partner carriers help us help you to speedier deliveries. It is our mission to ensure 100% customer satisfaction with both refrigerated and dry load shipments.

With a focus on truckload service for both dry and temperature controlled commodities, our fleet crosses our borders daily. By adhering to all security and customs clearance requirements, we avoid unnecessary delays and deliver our customers' product with industry leading on time performance.

Centurion prides itself on being a responsible, corporate citizen and establishes policies and controls to ensure we are doing our part in helping to preserve an ecologically sound and sustainable environment. As a transportation service provider, our environmental performance is our top priority. Preventative maintenance, speed control, engine idling, equipment specifications, and recycling are all areas that protect our environment while conserving energy and our natural resources. By setting and measuring objectives, we continuously strive to improve our footprint on the environment. All of Centurion Trucking's equipment is CARB Compliant and adheres to the guidelines of the California Environmental Protection Agency.